Por varias semanas esperé el lanzamiento de Assassin's Creed Chronicles China y tal vez ese fue el problema, idealizar el juego. Pero bueno, volviendo a lo mío… es una mierda.
ACCC está basado en un formato side scroller que hemos apreciado desde juegos como Ninja Gaiden pero más que nada le "pidió prestado" a un jueguín llamado Mark of the Ninja (ahora, si MotN se basó en otro juego, ni idea). La gracia de estos juegos es el uso del medio ambiente en el juego para esconderse y moverse sigilosamente. El juego te premia por no matar ni ser descubierto en ningún momento en un homenaje a lo que un ninja debiera ser.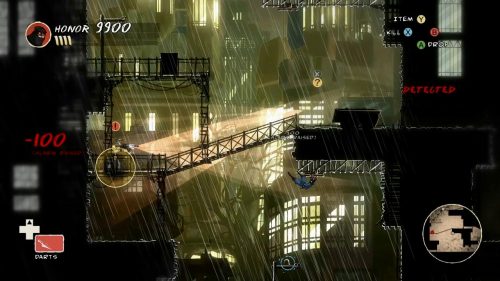 La gran diferencia entre MotN y ACCC es que el primero tiene un look extremadamente caricaturesco y sencillo. El segundo trató de crear un arte difuso que sólo le daría énfasis a las partes necesarias para el juego como los enemigos y el ambiente tangible para el personaje mientras lo demás tiene un aire borroso, flojo que me hace sentir que ni siquiera se esforzaron en el juego.
El otro punto que me molestó es que en Assassin's Creed Chronicle China te dan un número innecesario de herramientas para navegar en el mapa sin llamar la atención. El problema empieza cuando en solo te acostumbras a usar una o dos de estas herramientas y las otras son innecesarias hasta algunas momentos en particular donde no podrás avanzar si no la usas. Pero a ese momento ya se me había olvidado que estaban, lo que causaba morir o repetir varias veces la misma parte para poder recibir el mayor puntaje de la etapa, ya que si no lo obtienes no tendrás todos los upgrades del juego, lo que encontré una bazofia. Otros juegos con leves aspectos RPG te permiten comprar ítems a tu disposición con el dinero que ganas pero acá, no; claramente tienes que jugar el juego hasta conocer la etapa de memoria para poder sacar todo o ser un Valar de los side scrollers.
¿¡Y qué mierda hicieron con la voz de Ezio Auditore!? ¿¡Tan difícil era conseguir al actor de voz de todos los otros juegos!?
Seguiría con mi crítica pero ahí fue cuando dejé el juego. Semanas de espera se fueron sin despedirse al jugar un par de horas ACCC. Tal vez sea bueno para alguien que quiera saber la historia de Shao Jun y los siguientes 2 personajes que saldrán en los siguientes Assassin's Creed Chronicle, pero yo no. Me molesta que las compañías sean flojas y en vez de sacar un juego completo de AC en China como miles de fans han pedido, decidieron que era mejor hacer este juego a medias para que los fans se quedaran babeando con una asesina china en 2D y medio. Y sí, ese fue el gran punto del juego, que puedes acercarte y alejarte de la pantalla con 2 o más planos más en el mapa y eso, para mí, es flojera.
Este juego se lleva un escroto de mapache hervido y sin sal.