Termino medio:
Sección dedicada al anime que no es  malo pero no lo considero destacable tampoco, no es excelente pero tampoco mediocre, por lo tanto termino medio. Aquellos que ven anime por primera vez quizás encuentren aquí algún nuevo favorito, aquellos con experiencia pueden chequear rápidamente si algo les llama la atención si están ociosos.
Para los videos pueden ir al preview de esta temporada.
Fukigen na Mononokean: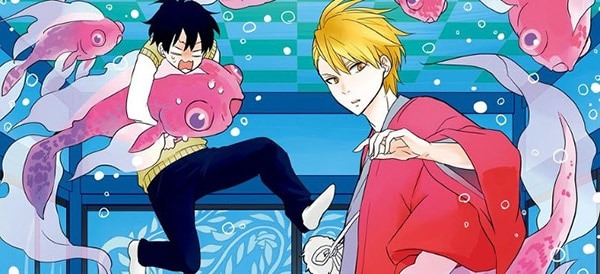 Comedia, sobrenatural. También conocido como Morose Mononokean. Hanae Ashiya es abrumado por un pequeño yokai (yokai: termino general para seres paranormales del folklor japonés), conoce a un exorcista que a cambio de su ayuda hace de Ashiya su ayudante.
Un buen ejemplo de un show termino medio, es entretenido pero hay otros programas del mismo estilo que o tienen más acción, o comedia, aventuras o personajes. Mejores shows son Noragami o Hozuki no Reitetsu.
Momokuri:
Slice of life, comedia. Manga empieza el 2014. Colegiala aparentemente normal se enamora de compañero, en realidad es casi una stalker… Yo creo que tiene mérito por no ser mala/mediocre, pero la opinión general es que es pasable.
B-project: Koudou Ambitious.
Reverse harem, músical, idols. Original de TV, 12 caps. Tsubasa es contratada en agencia de música y su trabajo es ser la manager de un grupo musical de idols hombres. En general sus reviews oscilan en torno del 7/10, a mí no me causo interés verla en lo absoluto.
Days.
Deportes (futbol). Manga empieza el 2013, 24 caps más 2 OVAs. ¿Quieren ver un buen anime de deportes? Busquen Haikyuu (pero es de voleibol). No es que Days sea malo (pensé que sería peor de hecho), pero palidece al lado del otro show que estuvo en el aire hace tan poco tiempo. Tampoco encuentro que le haga el peso a "Los Supercampeones/Capitan Tsubasa" pero esta última sí que esta vieja.
First love Monster – Hatsukoi Monster.
Comedia, romance. Manga empieza el 2013. 12 caps más 1 OVA. En su momento pensé que esta serie iba ir derecho a la sección "no recomendado", pero al parecer se las arregla para tener reviews regulares en varios foros (otra que no ví). Trata de Nikaido Kaho, una muchacha de familia adinerada a la que nadie le ha dicho ni una pesadez (uff), ella casi es atropellada si no es porque un muchacho la salva, acto seguido le dice que es "rara" (…al parecer hay quienes eso los insulta), se enamora de él (groan) y descubre que es un niño de 5 básico con algún síndrome que lo hace parecer mucho mayor (esto último es el punto que salva la historia supongo).
Love Live Sunshine.
Idols. Siendo una secuela de Love Live, en realidad es casi un spin-off que se sostiene por su propia cuenta, casi contando la misma historia pero con distintos personajes. No es mala, pero si no les gusta la temática de las idols, no encontrarán nada nuevo aquí, visualmente es de mejor calidad en todo caso. Trata de un grupo de colegialas que desean convertirse en un nuevo grupo e idols y hacerse famosas, fin.
Tales of Zesteria the X.
Basado en juego de video del 2015. 13 caps. Casi la puse en la sección "no recomendado", pero gráficamente está muy bien lograda, el departamento de audio también, y puede ser entretenido, el problema es el guion: la serie de RPGs "Tales of" de Namco usa muchos clichés y tienden a ser predecibles con sus mundos de fantasías, y como son juegos muy largos, 50 – 60 horas de juego, al resumirlo a una serie de TV implica quitar detalle, el detalle que hace que estas historias sobresalgan a veces. Si jugaron el juego y son fans está recomendada, pero si quieren ver alguna historia tipo medieval-fantasía, sin ser "mala" en realidad hay mejores series dando vueltas.
Puzzle & Dragons X.
Basada en juego de Smartphone tipo CandyCrush del 2012 (aunque se dice genero puzzle y rpg), que es sumamente popular en Japón, el 2013 incluso sacando una edición de Mario para 3DS. No sé cómo se las arreglaron para hacer un anime pasable con esto, pero aquí estamos en la sección termino medio en vez de NO recomendado. Tengamos en cuenta que está muy orientado a niños eso sí (como Pokemón u otras series para vender juguetes), por lo que alguien mayor buscando algo mínimamente profundo/complejo que siga su camino.
Taboo-Tatoo.
Acción, aventura. Manga empezó el 2009. 12 caps. A grandes rasgos este anime podría haber sido bueno, buena animación, música pasable, abundantes personajes, pero decide usar clichés, dejándola súper-genérica, si a eso uno le suma mala dirección que hace el guion difícil de seguir cuando no es necesario, esta serie casi queda en la sección de NO recomendado en verdad.
Cheer Danshi!! – Cheer Boys!!
Tipo deportes, drama, comedia. Basado en una novela, y con un manga que empezó el 2016 también. 12 caps + 2 OVAs. Trata de un par de amigos que tratan de fundar el primer grupo de cheerleaders compuesto de solo hombres. Por chistoso que esto suena tiene una buena cuota de drama considerando que los personajes tienen que lidiar con la vergüenza del plan que decidieron tomar, reclutar gente y demases.
Lo débil de esta serie es que está muy enfocado para las fujoshi (con fanservice para mujeres), los personajes no están tan bien desarrollados como deberían estarlo, y como anime de deportes no es tan apasionante como otros. De nuevo, no es malo y la premisa es chistosa, pero podría haber sido mucho mejor, por ende termino medio.
Servamp.
Peleas, sobrenatural, bishonen (niños bonitos). Manga empezó el 2011. Colegial recoge y adopta un gato, que resulta ser un "Servamp", 1 de 8 vampiros sirvientes, no solo eso ahora queda involucrado con un mundo oculto en el cual deberá luchar contra los otros servamps y sus dueños. No he visto esta serie y los reviews que he encontrado en internet están bastante divididos, mucha gente le gusta, mucha gente la encuentra regular y varios otros la odiaron, personalmente no me causa mucho interés verla, la interpretación de los vampiros aquí es muy liberal: son seres crados por los humanos, inmortales y no chupan sangre… ¿Para eso no mejor llamarlos homúnculos o algo así?
Kono bijutsu-bu ni wa mondai ga aru! – This artclub has a problem!
Slice of life, moe, comedia. Manga del 2012. 12 caps. Otro slice of life, no es malo, pero es otro más del montón. Una chica nueva se une al club de arte de la escuela para encontrar a: el presidente que solo sabe dormir en el sofá, un talentoso estudiante que hace retratos de chicas moe en búsqueda de una "waifu" perfecta (una waifu… ¿cómo lo explico? De partida es una japonización de la palabra "wife" que significa "esposa" en inglés, y la usan para referirse a personajes femeninos (en general) de anime a las que los otakus arbitrariamente definen son sus parejas, sip eso de estar enamorado de un personaje 2D ficticio, ugh) y una chica de familia adinerada que le gusta solo hacer travesuras. Es muy cómica y con buena crítica en general.
Los slice of life por definición son animes termino medio, rara vez considero que realmente valgan la pena ver.
Amanchu!!
Otro slice of life, pero del club de buceo de un colegio. Manga del 2008 hasta el presente. 12 caps más 1 OVA. Lo interesante es que es otro anime del sub-genero del Slice of life llamado "Iyashikei" (traducción al inglés es "healing"), esto es un concepto bien japonés, que es de la sanación mental vía situaciones placenteras y pacíficas. En este caso el día a día de un grupo de chicas del club de buceo, no hay fanservice explicito, no hay aventuras y nada pareciera estar mal en la vida de estas personas, siendo una serie muy positiva, como Amaama to Inazuma. Es un poco lenta y no profundiza mucho en los personajes, cosa que podrían explorar dado que no ocurre mucho.