Asus y Republic of Gamers destacan en IFA 2017
IFA 2017, evento anual realizado este año en Berlín Alemania, resulto ser uno de los eventos tecnológicos más grandes en estos últimos años en Europa, dándose a lugar entre el 1 y 6 de Septiembre. Naturalmente casi todas las marcas famosas vinieron a presentar su productos: Acer, LG, Samsung, Sony, Dell, entre otras y por supuesto Asus, trayendo el concepto de "The Edge of Beyond".
Productos destacados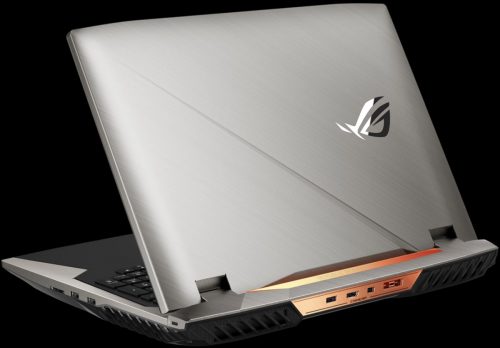 Dentro de la serie de equipos Gamer, ROG Republic of Gamers, Asus presento ROG Chimera, el primer laptop del mundo con una pantalla wide-view de 144Hz, de tiempo de respuesta de 7 milisegundos gray-to-gray. Esta es de 17,3 pulgadas y resolución Full HD con tecnología G-SYNC.
Entre sus especificaciones: un i7-7820HK, overcloack de fábrica, de hasta 4.3 GHz, Nvidia GTX1080 a 1974 MHz, no existe actualmente un notebook más potente para jugar juegos de video (aunque me mantengo escéptico sobre la batería, también suena como una buena estufa portátil jajaja).
Como extras, y en conjunto con Windows 10, viene con Xbox Wireless que facilita el uso de accesorios Xbox para no andarse maneando con los cables.
Para el ámbito realidad virtual también presento el Headset ASUS Windows Mixed Reality (necesitan trabajar un poco en el nombre ¿no creen?), este visor de realidad aumentada es bastante ligero, 400 gramos, y está hecho de materiales anti-bacterianos para poderlos sudar de forma higiénica… Rayos eso me hizo pensar en la última vez que limpie este teclado y mouse, yuck.
También presentaron nuevos modelos de la línea Zenbook, el Zenbook Flip UX461, como el nombre sugiere es un 2 en 1 como los llaman acá en Chile, con posturas de notebook y Tablet, con 1,4 Kilos personalmente suena un poco pesado como Tablet, cara a cara con una verdadera Tablet digo yo.
La ventaja aquí es toda la versatilidad de Windows 10 con un CPU de verdad (i7 generación 8), 16Gbs de Ram tarjeta Nvidia MX150 y una cantidad no despreciable de 512 Gbs. La pantalla es 1080p de 14 pulgadas emparejada con un sistema de audio de Harman Kardon. Un detalle no menor es que también tiene un lápiz Windows Ink, marca Asus por supuesto, con 1024 niveles de presión.
También están el Zenbook Flip S UX561 y UX370. Estos son respectivamente más potente (con una Nvidia GTX1050 y pantalla de 15 pulgadas) y el segundo más portátil (de 1.1 Kilo), siendo el 2 en 1 más delgado del mundo.
Dentro de la línea Zenbook a secas, teneos el Zenbook 13 UX331, con un procesador i7 de 8va generación, Nvidia MX510, 16GBs de RAM y un SSD de 1TB.

Asus Zenbook Flip S